Nashville-Based Company, RaganSmith, Announces 2 New Shareholders
Ragan-Smith-Associates, Inc. is pleased to announce the addition of 2 new shareholders. Scott Bernick and Colin Johnson joined the RaganSmith ownership team, effective January 1, 2022.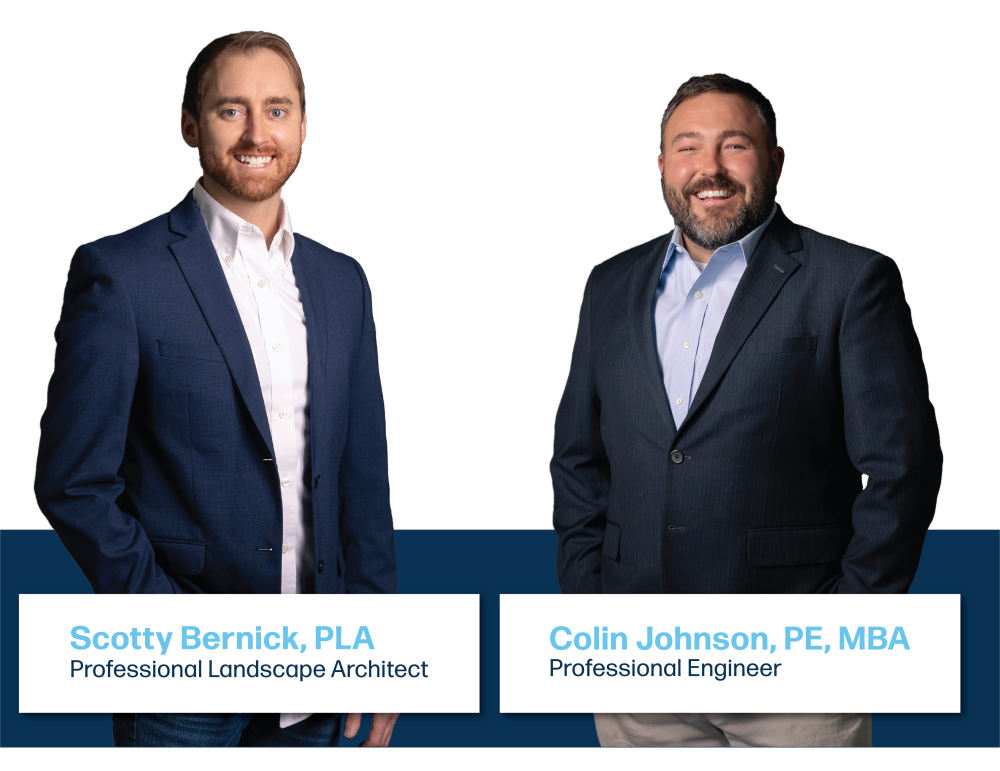 Joe Griffin, CEO, describes this expansion of the leadership team as supportive of "our commitment to strong succession planning and providing ample growth opportunities throughout our disciplines. We're proud to welcome the two newest members to the firm's ownership."
Scott Bernick, PLA, brings 16 years of experience to the firm's leadership team. Scotty joined RaganSmith as an intern in 2004 and quickly prospered in land planning, site design, and property entitlements. A proven industry expert, Scotty is integral to the firm's Landscape Architecture practice and boasts an array of accolades including recognition from the Heritage Foundation with a Preservation Award for Excellence in Infill in a Historic District in Franklin, TN. Brett Smith, Principal, notes that "Scotty represents the next generation of forward-thinking landscape architects and will lead the effort to propel our firm to continue to be leaders in this exciting profession."
Colin Johnson, PE, MBA, joined RaganSmith in 2016 and leads the company's Chattanooga office. With 16 years of experience and a diverse background in civil engineering and business, he has worked to solidify and grow RaganSmith's presence in Chattanooga by assembling and managing a team of outstanding professionals, as well as building a robust portfolio of local, regional, and national clientele. Under Colin's leadership, RaganSmith has played a crucial role in the recent revitalization of Chattanooga's urban and suburban fabric. Chief Operating Officer Allen Ramsey applauded Colin's leadership, saying "Colin has been an integral part of RaganSmith's growth and success in the Chattanooga region. His leadership and commitment will be instrumental in our continued growth in our practices, offices and markets."
"Scotty and Colin have shown the ability, leadership, and commitment that allow RaganSmith to continue to grow and thrive in the future. With their addition we have made a further stride toward company-wide leadership, succession, and growth in our Practices, Offices, and Markets," said Griffin.
---
RaganSmith is a Civil Engineering, Survey, Landscape Architecture and Land Planning company that serves both the Public and Private sectors. Their headquarters are based in East Nashville with additional offices in both Murfreesboro and Chattanooga. Started in 1933, the company currently has 150 employees and is one of the fastest growing privately-owned companies of its type in Middle Tennessee. You can see their efforts throughout Middle and East Tennessee, as well as throughout the Southeast. Going into 2022, RaganSmith is committed to creating an environment that allows for growth and success for its employees while continuing to provide superior service to their clients and communities.