Welcome to Tomorrow's Office
RaganSmith Murfreesboro Open House & Ribbon Cutting Ceremony
On September 26th, RaganSmith hosted an exciting open house at our new Murfreesboro office. After a five-year stint at our office in Murfreesboro's City Center, we made the decision to relocate into a new space that re-imagined the blueprint for tomorrow's workplace environment. RaganSmith found this when we discovered Murfreesboro's up-and-coming Fountains at Gateway. The Fountains at Gateway was designed during the COVID-19 pandemic when the new norm of office space was being questioned. Rather than viewing the pandemic as an obstacle, developer Scott Graby saw it as an opportunity to re-think what this office space would look like for tomorrow's generation.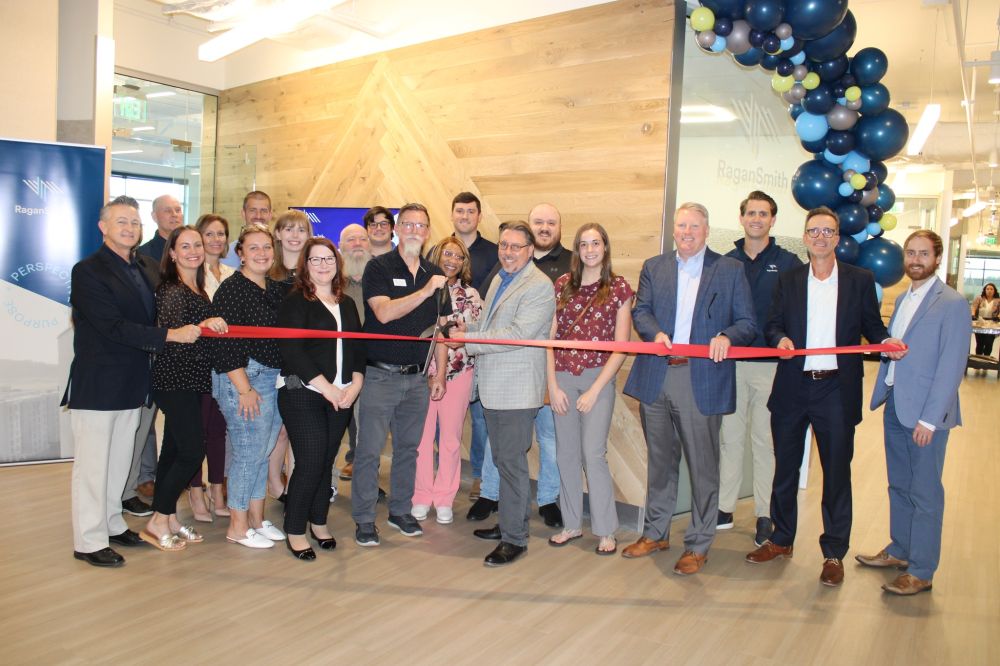 RaganSmith's new Murfreesboro office represents an entirely new outlook on our approach to office space. Compared to our previous location, the overall office footprint is smaller. The workspaces are also smaller in size, but they are open to the colleagues around you, allowing for easier collaboration and providing an improved feeling of camaraderie between one another. The overall environment also feels more inviting due to the high ceilings and large amount of natural light provided by the floor-to-ceiling windows.
Not only does our new office space feel more inviting, but it also offers significantly more nearby amenities. RaganSmith shares the second floor with four other office tenants, which might sound a little crowded. However, due to the "Class A" kitchen space and dining area, it certainly doesn't feel that way! This area is equipped with a variety of sitting and dining areas, that provide seating for groups or individuals seeking personal time and relaxation. Not only do the huddle pods, similar in visuals to a restaurant booth, provide seating, they also provide overflow areas where employees can focus on design tasks or hold virtual meetings in a quiet environment.
Our new Murfreesboro home offers four formal conference rooms, as well as a 30-person training room, and a whiteboard strategy room. The third floor offers a fully equipped podcast studio and the fourth floor provides large and medium scale corporate meeting area opportunities. The amenities mentioned above are available in an office reservation system.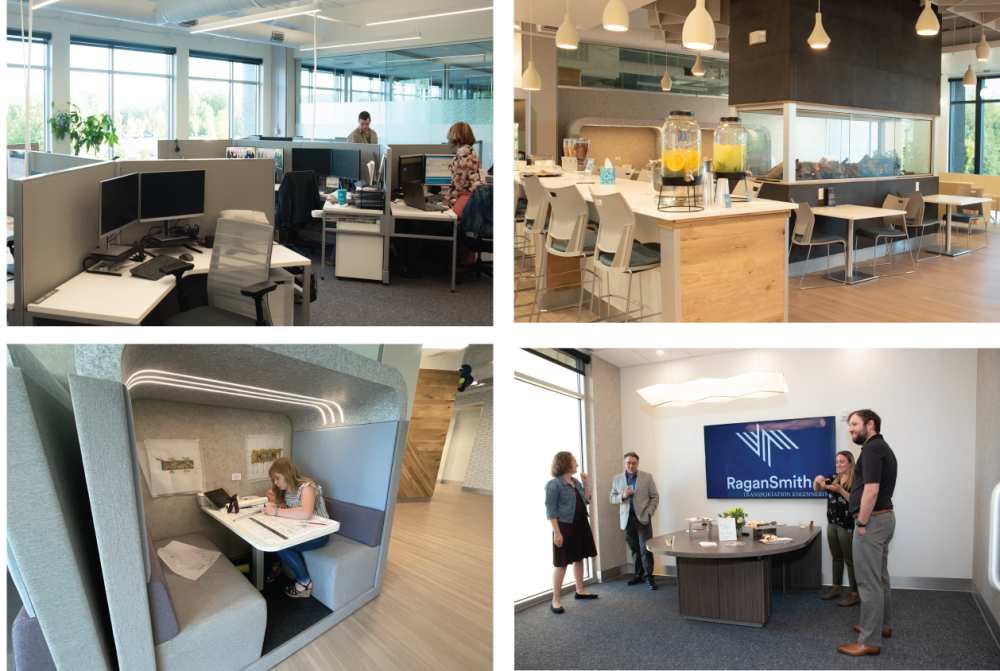 Additionally, The Fountains offers employees multiple dining options at the street level. A well-planned streetscape that was programmed with both active and passive outdoor areas gives employees an opportunity to escape the office to an environment of their choice. For our active employees, we recommend the Greenway, a mile-long greenway that you can walk or bike, to Gateway Island Park, a hidden gem in Murfreesboro. For employees looking for a break, there are a wide range of eateries and shops located within Fountains at Gateway, so take some time to explore the wide variety of dining opportunities offered!
Here at RaganSmith, we like to view our offices as a tool—a tool our employees can use to collaborate with their colleagues, learn and grow professionally, and engage with clients in a professional atmosphere that reflects the hierarchy of the design thought process. We believe we have found that tool with our new location in the Fountains. We are excited to try new dynamic approaches in the workspace and enhance the employee experience by investing in a positive office environment.
So, if you haven't had time to visit our new Murfreesboro office, we would encourage you to free up some space on your calendar and take a visit to The Heart of Tennessee.
It's certainly worth the trip.