Development in Rural America: Convincing Small Towns They're Worth It
Promoting development opportunities in rural communities can be a challenge, but it is well worth the cause. Oftentimes, rural communities display a pattern of residents disproportionately moving towards the outskirts. Yet, even the most expensive homes cannot retain their value if the infrastructure and community needs are not upheld and developed to support community growth. Everyone must invest in the betterment of their own community.
I recently had the honor of working on a special community park project in the small South Georgia community where I grew up. One Sumter is a master plan concept for a multi-purpose community park in Americus, Georgia that stems from the OneSumter Board's vision to create a destination that is inspirational, sustainable, functional, and above all, a place for the people of Sumter County and Americus to come together. A place where the community can thrive, a venue for artists to shine, and a park that remains true to its natural beauty.
Rural development hinges on expanding the economy of a small town–creating functional spaces and lucrative opportunities that retain current residents, encourage new people to move there or former residents to return, and creating places for visitors to come to support economic growth through tourism. With new trends showing people are favoring towns of less density and remote work being more prominent than ever, people are looking for rural areas that can support a socially active lifestyle similar to that of larger cities. The One Sumter project embodies the spirit of a town embracing these changes and serves as an example of a collaborative and people-centric approach that enables us to design visionary developments that can transform any community fabric.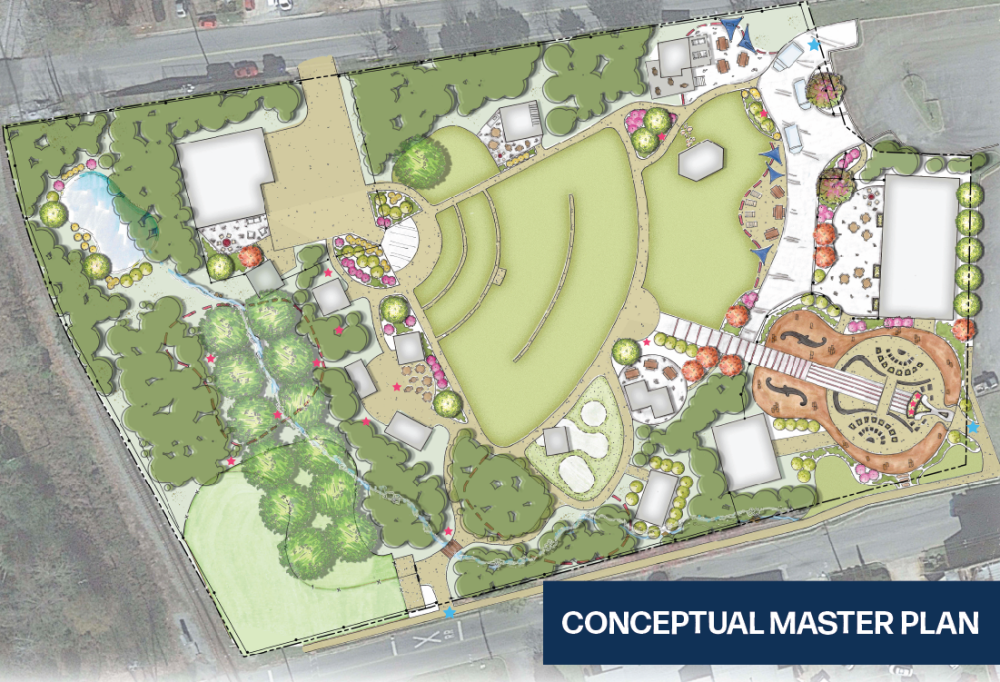 Be the sail, not the wind.
My biggest take away from the One Sumter project is that to "get it done," it's more important to be the mechanism by which the boat takes off instead of the driving force behind the movement. Frequently, smaller communities don't believe they can afford development opportunities due to monetary restrictions and lower population numbers. That's why a responsible land development professional will strive to provide the knowledge and support to convince rural communities they are worth the big ideas and investment in growth.
Guiding a community through the process of having their voice heard is the mark of a great designer, and the key to rural project success. Promoting responsible development and opening minds to what could be is often the first step. We must show them what is achievable and how to achieve it, so they can begin to realize the potential their community holds and shape a vision for the future.
Community involvement in the design process was critical in the One Sumter project. Our team attended multiple charettes and site visits with community leaders and project stakeholders, focusing on developing a relationship with the entire community. Providing education opportunities and collaborating with local leadership was a driving force behind the project design because local leaders have gained a deep trust and influence with their constituents. Often, they come from humble community roots as developers, farmers, and community providers.
We saw it as our responsibility to go above and beyond simply delivering a design and sought to provide knowledge of how to implement the project. We had to meet the community where they are, walking through the experience with them. The culture of rural America is steeped in commitment and hard work. We had to find our "in" and stick through the entire process, advocating for proper design, engineering, and construction, and providing knowledge about grant resources and how to secure these funds.
However, we wanted to ensure that funding did not have to put the project on hold. Our solution to accommodate budget constraints was to create an implementation phasing plan that strategically sectored the construction scheduling while still ensuring proper circulation and programming. Each phase of the project can stand alone once built without appearing unfinished, allowing a project timeline that could successfully move forward while grants and fundraising efforts were simultaneously in process. In fact, the design itself encompassed a fundraising opportunity. The plaza guitar design, created to honor local musical icon Pearly Brown, incorporates bricks that community members can purchase in support of the park and leave their own mark on this legacy project.


Storytelling Through Design
Embracing existing conditions and highlighting the local culture is a great place to start with rural design. You want to strike a balance between the natural and built environments with consideration for function, impact, and economic importance—but the project success is driven by so much more than that. It's important to understand and preserve the history of the area, highlight the unique or niche qualities of the community, and revive what is already there. This is seen often in the revitalization of town squares and historic homes.
Placemaking has a unique power to communicate the stories and histories of underserved groups, which is pertinent to a community's ability to grow, recover, mend, and work towards a brighter future. Our job as designers is to educate and embrace the past while assisting in writing the future. It is important to coauthor new stories, rather than wipe away or rewrite the stories of the past. With the One Sumter design, we were able to create a storyline for a brighter and collaborative future, while honoring and reflecting on the past.
Rural Georgia is seeping with music, civil rights history, and family-oriented community values. These values were woven throughout the One Sumter design through the amenities. There is an amphitheater, a guitar shaped entrance plaza honoring the legacy of local musician Pearly Brown, an event venue, dog park, children's playground, and ample open space for passive recreation. We aimed to create an inclusive development that would appeal to all ages and demographics, ensuring the whole population of Sumter County will feel included and can enjoy the space together with a sense of community pride.
Conclusion
Every design tells us a story and that story can be leveraged as a tool to build a connection with the community. When a town invests in its neighborhoods, citizens take pride in where they are from and where they are going. Development in rural areas, and especially South Georgia, can provide an opportunity for creating purposeful and unique spaces that support activities and interactions and uplift communities. These opportunities are a necessity, not a luxury.